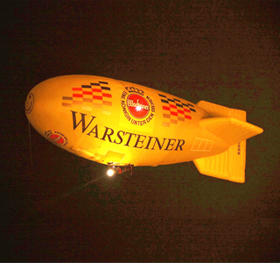 Are you worried about the cost?
Of course, air ads are so impressive that surely, these things should cost quite a lot! It really depends on how you see it. You see, this is not another marketing strategy that you are going to try. It is not even a risk so you can throw your trial and error thoughts away now. Aerial advertisement is an amazing technique that can give you guaranteed results! No kidding! Studies show that over eighty percent of people that see a product, logo, or message flying in the air say that they remember the name. Having this kind of conversion rate is huge! All the eighty percent may not visit your store but rest assured that at least sixty percent of these individuals will check out what you have to offer. So if a thousand people have seen your air ad in one day, around six hundred of those will come right to your store! Isn't that huge? This is what you are paying for. Treat this as an investment that can give you a lot of money in return!
The Blimps
There are many types of aerial advertising. These are air banners wherein you get to fly a huge billboard in the sky, skywriting where a jet plane writes your message across the air in huge letters, helicopter banners-the bigger version of airplane banners, and of course, the blimps wherein an airship slowly glides above the ground in thousands of feet as it blatantly shows your logo and message.
What makes blimps special?
If anyone asks you what is the one thing that you remember about Goodyear besides their tires? Carefully think about it. Don't you have this mental picture of sausage like airships way above the sky with the huge Goodyear logo on it? This company has been using blimps to advertise their business for decades now until they have become extremely famous for it. If you want this kind of legacy, then you might want to apply this to your company right now. After all, there is really nothing to lose if you know that the results will be as staggering as the ad itself.
So if you sincerely want the best for your company, then start blimping your way to success! Get noticed by everybody on the ground! Amaze them with this airship hanging above them with your company logo on it. Believe it or not, this advertising method can surely bring delight to anyone who sees it. It is an entertainment that can provide promising result for your business. Now what are you waiting for? Get your logo up in the air with these huge airships right now!