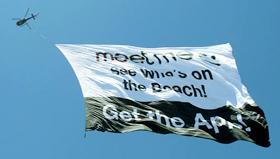 Helicopter Banners
Are you looking for a kind of advertising technique that can wake people up from their daily chores and work and just stare at your products and services in wonder? Do you want something that can wow their brains off? Do you want to promote your company in such a way that can send people instantly running to your store, like bees in a honey jar? Do you want to achieve all these things with very minimum effort? Now these questions must be going on in your head for quite some time but never really knowing the answer. Maybe you should start thinking at a different angle and start being unconventional?
Not that you need to be bizarre when it comes to your ads, you just need to steer away from the usual online marketing strategies and billboard sidewalk logos and whatnots so you can have a clear mind and vision on what is the next best thing that you can do to promote your business. The answer is through the air. Why not use the sky to advertise your products and services? You can take advantage of the huge backdrop and the amazing fact that there are no other distractions other than the pretty clouds floating behind your banner. The best part is, your ads can quickly be seen by everyone (literally!) in just one single day! You do not need to worry the numbers because as long as your product is up there flying all over the place, then rest assured that all the people in the ground will see and remember what you are offering!
Aerial advertising is certainly impressive in all the right senses. However, if you really want to use the most staggering air ad, then you must choose helicopter banners. Helicopter banners are magnificently huge and gloriously stable that the huge size of your logo banner alone is perplexing! Imagine, you can put your logo and other promotions in the air in the size of half of the football field! Now that is one massive banner! Since it will be flown by a helicopter, it can stay above the ground for a couple of hours. You can see the chopper hovering quietly as the big banner flows down with big bold letters and design of your choice. Are you amazed yet?
There are many advantage of having a huge banner flown above the beautiful sky. For one thing, you can easily extend your message instead of a measly couple of letters. People from the ground can also see it immediately and they will obviously realize about how huge your advertisement is, not to mention that it is up in the air which is totally a plus for everyone. Your message can be viewed longer due to the chopper's ability to hover. And so whether or not you are going to use it to promote your company, products, or services or simply utilize it for personal messages such as a marriage proposal, birthdays, and the like, you will never regret these helicopter banners!