Letter banners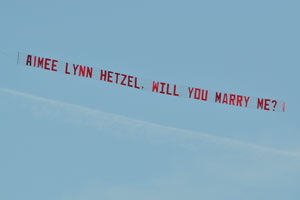 Also known as aerial letters, these are letters plastered against a clear board so that from afar, it looks like floating letters. This is wonderful for personal messages such as anniversaries, birthdays, marriage proposals, congratulatory messages, announcements, and other promotions that you might want to shout out against the sky. You can use all the letters in the alphabet, including the numbers and other customized characters.
Billboard banners

Billboard banners or aerial billboards are practically like your regular billboard ad that you often see while driving. The only big difference is, you are putting it up above the air instead of placing it stationary at the ground. This can give you a great advantage since there are no distractions from other physical factors and they can easily be seen by everyone! In fact, recent studies show that over eighty percent of people will remember the product if they have seen it in the sky. After all, what is not to remember? If you see a flying billboard, then that is really something to be amazed about!
Logo board banners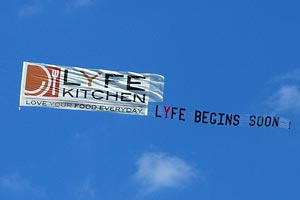 Logo board banners are a combination of billboard banners and letter banners. This is perfect for promoting a brand since you can easily include your company's logo on top of your customized message. You can have it in 3D or in plain billboards. This kind of air ad can really give you the best of both worlds since all the important information that you need to promote can be included in this kind of banner.
These are the things that you need to know about airplane banners and how they can really help you and your business be recognized by thousands of people in one day and in one single flyby. This is an investment that can totally bring back large sums of returns especially when you advertise it in an area full of people. It could be an event, a beach, or a sporting activity. The point is, make sure there are a lot of individuals outside that can readily see your awesome air ads.